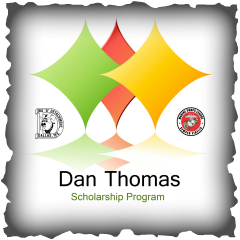 BIG D DETACHMENT – MARINE CORPS LEAGUE DALLAS, TEXAS DAN THOMAS SCHOLARSHIP PROGRAM


The Big D Detachment of the Marine Corps League has established a scholarship program for members of the Detachment and their immediate family members.

The program offers a scholarship to individuals for the scholastic advancement at the undergraduate college level. The maximum number of awards per year is two. Scholarships for a Summer Semester will not be accepted. An applicant must be sponsored by a qualified member of the Big D Detachment. The applicant must be enrolled as a full-time student which for this scholarship is considered to be 12 or more semester hours. The sponsor must be a member, in good standing, of the Big D Detachment or the Big D Auxiliary of the Marine Corps League. A qualified applicant must be the member or a relative of the sponsor who is defined as a child or grandchild. Each scholarship awarded is for an amount decided by the scholarship committee, per semester, per applicant.



---
---